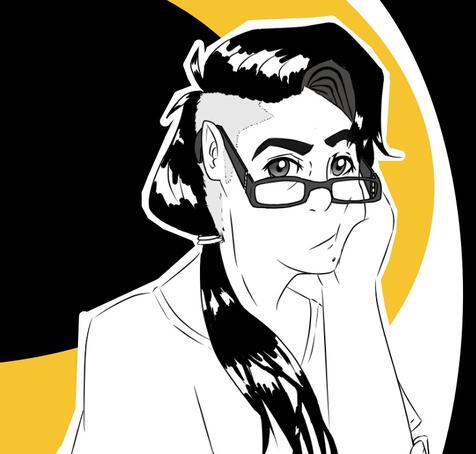 Nemo's Commissions
---
Thanks for choosing my style of work for what you're interested in. Prices & Styles are below. Please read the Terms of Service below and fill out the form to show you have read and understood these terms. Be ready to make your purchase right away along with any questions prior to contact. Be prepared to provide a reference of characters & environments commissioned.
-Nemo Siqueiros
Terms of Service
BillingPricing: I price at minimum wage and roughly by the hour, I have a degree in Art & Anthropology so with this experience, my prices are non-negotiable and are priced where I believe they're worth. 🔥 If you feel that my prices are too low for the quality of my work, feel free to add a tip or buy me a kofi or two or send a gift donation directly to my paypal. This helps me continue to gauge the value of my work.

Late PaymentYou have 2 weeks to answer the invoice I send for the commission, if you do not answer, your slot will be canceled.

Scheduling ContactI will answer emails between 2pm-10pm on weekdays. Emails received will be answered in 24-48 hours once received.

Spec Work🔥I will not allow spec work as my work is valuable along with my time. If you're contacting me for a commission, you're already interested in my work. If not, find someone else that interests you more.

Terminating Commission WorkIf during the commissioning process the client wishes to terminate their agreement to work with me, any work that is refused by the client cannot be used in whole or in part.

(If this is not clear, that means you cannot commission me, decide you don't like it, get a refund and use any of ideas I've created, and explicitly in whole or in part (or have another artist build off of it.))

Image RightsI reserve the right to use any image I create as I see fit. 🔥 I retain all rights to the image.
This includes, but is not limited to, producing and selling prints or portfolios (print, digital or CD) and/or posting to my online galleries. I retain full commercial and distribution rights on any image I produce.

If the client does not wish to pay shipping for traditional art (including sketches), I reserve the right to sell originals at conventions or online auction. 🔥
The client may use the commission image at any size as they please FOR PERSONAL USE ONLY. Personal use excludes any and all commercial purposes (logos, SecondLife mag use, selling their own prints, youtube monetization). No profit is to be made off the image. If posted online, I require being listed as the creator and I would prefer a link back to my commission page or patreon. Alterations to the image are NOT ALLOWED without my written consent. I am open to commercial usage rights purchase, but this is on a case by case basis and pricing is decided by me depending on the work on top of the normal charges. Please contact me for details. 🔥
I will never dishonor a client's personal character in my redistribution, and my usage rights are not up for discussion. If my usage rights are not to your satisfaction, my pricing for giving up rights will have to be negotiated for a price.

Making a PaymentI use U.S. Dollars as my currency. I accept payment upfront through paypal. When using PayPal for a payment, I will be INVOICING the client. I will invoice clients after the quote is finalized with the agreed upon price. You will pay for 50% of the price before I begin and 50% before I send the final image. Fanart I price accordingly to the Terms of Service and Commission agreement, and original work will have to be calculated more specifically and cost twice as much or more ($150~to $500~).

Refusal of ServiceI reserve the right to terminate a commission at any time I see fit, or refuse work from any person at any time. 🔥 I reserve the right to cancel and/or refund a commission at any time due to poor communication, rude or inappropriate behavior or the inability to communicate in a way we can both understand or if the subject matter of the commission is uncomfortable for me. Please see my page of NOTP's in the OTP list as well as any other content I will refuse to illustrate linked further in. Anything in the realm of bigotry is already off the table.

If a refund needs to happen, I will refund the remaining balance of the commission less work and materials, depending on the situation. Depending on the circumstances, the commissioner may or may not receive the completed work and may or may not retain any usage rights whatsoever.

There are NO refunds on completed work. 🔥

Maintaining CommunicationIf I do not receive communication back from a client for over 6 months, their commission and funds are forfeited and no commission will be delivered. I make 3 attempts at communication over this time. 🔥 If I receive nothing back, I am absolved from the work and the client may not request a refund. My work at the radio station makes me busy which is why I might take 6 months to complete an art piece while also communicating the stages of your commission.

(NOTE AS OF Nov. 01, 2018 to Jan. 15, 2019) I'm taking pay what you can commissions at a minimum of $9 for any given piece, via ko-fi/paypal invoice so be polite and pay for what the art's worth and I'll put in the work accordingly or better than you expected!
Art Examples
Examples below are of my different art styles, hit the otp list to understand what pairings I'm most to least likely to draw.
Pairings: OTP's, BrOTP's, HateShips & NOTP's
I would rather focus on the stuff I like vs what I don't like and not go into any reasons of why I should justify why I like one vs the other, I just do or I have common sense and this doesn't necessarily reflect what I think of other people and I stay in my lane until I'm personally attacked or others through online harassment, threats etc. This is also a good list to understand what I will or will not draw/talk about in my free time or in my commission work. Some are color coded if I happen to like them a lot if and when I see 'em or I just like color coding stuff. Some I like the ship but not actively and think they're cute. Some have additional notes anyhow.

My list of OTP's
Sheith (Takashi "Shiro" Shirogane & Keith, Voltron: Legendary Defender)Allurance (Allura & Lance, Voltron: Legendary Defender)Hance (Hunk & Lance, Voltron: Legendary Defender)Punk/Hidge (Hunk & Katie "Pidge" Holt, Voltron: Legendary Defender)Hunay (Hunk & Shay, Voltron: Legendary Defender)Heith (Hunk & Keith, Voltron: Legendary Defender - this one I like seeing nsfw of mostly hahaha)KinkJames (Ryan Kinkade & James Griffin, Voltron: Legendary Defender)Sormik/Suremiku (Sorey & Mikleo, Tales of Zestiria)RosAli (Rose & Alisha Diphda, Tales of Zestiria)Victuuri (Victor Nikiforov & Yuuri Katsuki, Yuri on Ice) OtaYuri (Otabek Altin & Yuri Plisetsky, Yuri on Ice)Soriku (Sora & Riku, Kingdom Hearts)NamiXi/Namishi (Namine & Xion, Kingdom Hearts)Kailette (Kairi & Olette, Kingdom Hearts)Nezushi/RatxShion (Nezumi/Rat & Shion, No. 6)Rhysha (Rhys & Sasha, Tales from the Borderlands)Rupphire/Garnet (Ruby & Sapphire, Steven Universe) Form the fusion Garnet, their relationship manifested. THEY'RE MARRIED!!Lapidot (Lapis Lazuli & Peridot, Steven Universe)PearlRose (Pearl & Rose Quartz, Steven Universe)RoseGreg (Rose Quartz & Greg Universe, Steven Universe)BlueYellow (Blue & Yellow Diamond, Steven Universe)Bubbeline (Princess Bubblegum & Marceline, Adventure Time) Canon!!
My OT3s, OT4s, Poly/One-sided Ships
Some I like to see as truly poly, some I like to see as one party pining for one, the other, or both/all.
Jeiro (James Griffin, Keith, Takashi "Shiro" Shirogane, Voltron: Legendary Defender) - I like this one as both an OT3 or as James pining for either Shiro or Keith.SoRiKai (Sora, Riku & Kairi, Kingdom Hearts)
My BroTP's
Stuff I prefer to see as platonic or one sided only, this includes some of the above depending on stages of the relationship if a character was younger than the other.
Friendsheith (Takashi "Shiro" Shirogane & Keith, Voltron: Legendary Defender) Pre-Kerb era, one sided crush from Keith. This is also the only context in which I'd ship Adashi (Adam and Shiro) because they were in a relationship pre-kerb, but I'm not necessarily bothered the way portions of the fandom were at Adam's death or their break up.Heith (Hunk & Keith, Voltron: Legendary Defender) I've always figured they'd get along alright, and s7 was really nice on showing that friendship for Hunk pulling Keith back to the team and Keith helping Hunk get his family back.Laith (Lance & Keith, Voltron: Legendary Defender) friends who give each other shit.Shance (Takashi "Shiro" Shirogane & Lance, Voltron: Legendary Defender) I can see Lance having a man-crush of sorts on Shiro since he was his hero and inspiration for joining the Garrison or just generally and secretly memeing together.Kidge (Keith & Katie "Pidge" Holt, Voltron Legendary Defender) I always saw these two that if teamed up , they'd be the most dangerous team to deal with because of their similar personalities and different strengths.Keitor (Keith & Lotor, Voltron Legendary Defender)Kacxa (Keith & Acxa, Voltron Legendary Defender) I don't believe these two will be shoved into a last minute relationship but I won't mind if they are because they respect each other pretty well. I'm looking forward to Keith encouraging Acxa to find the leader that she seeks within herself rather than following others.AkuBROku (Axel and Roxas, Kingdom Hearts) Platonic or one sided crush from Roxas is alright to me.
Hate/Rival Ships
They're probably terrible for each other, are written out of character for the sake of what if one of them wasn't a dick, or are rivals, or even one sided in favor for one of my otp's for fucky flings.
Jeith/Jaith (James Griffin and Keith, Voltron: Legendary Defender)Original Shipping (Red and Green(Blue), Pokemon)Rhack (Rhys & Handsome Jack, Tales from the Borderlands)
My list of NOTP's
Can't change my mind on these unless both are adults later in the future or their relationship improves in such a manner that I appreciate their dynamic in a romantic light.
Klance (Keith & Lance, Voltron: Legendary Defender) Most commonly used ship name by the fandom, which ruined any potential like for it, as well as the fact that it's just written a certain way that I can't see it romantically at any point in canon.Shallura (Takashi "Shiro" Shirogane & Allura, Voltron: Legendary Defender) The whole "Space Dad" and "Space Mom" thing creeped me out and I see a lot of homophobia crop up hating on Keith because of it.Jaspis (Jasper & Lapis Lazuli, Steven Universe) Garnet voice: YikesAkuRoku/LeaRoku (Axel/Lea & Roxas, Kingdom Hearts)
Hi! If you've looked a bit deeper, and are interested in a NSFW commission or something overly complex, there's several things I WILL NOT/CANNOT ILLUSTRATE and I don't have to go into detail why if I say NO! Here's some common sense stuff:
1. Any ships in my notp list, even if I JUST added it after seeing your email probably. I tend to forget what I notp just because i focus on the otp stuff.
2. underage/minor ships.
3. Anything that I find generally squicky/disturbing for me.
4. Work that promotes hate speech, bigotry and/or violence against marginalized groups (race, gender, sex, sexual orientation, disability, etc)
5. Stuff I'm not able to in the foreseeable future deliver a quality piece. If you ask me to draw a mecha, or animal, it probably won't turn out very well unless you plan on paying me a lot more to learn, research and go through with it, but it WILL take longer.

3 & 5 You'll have to discuss in detail with me because...there ARE some stuff I will draw or am willing to learn how to draw but I'm not about to talk about that here. If you receive a NSFW commission, it will simply be listed as a commission on the invoice to comply with ko-fi or paypal, and images sent directly to you and uploaded to my password locked NSFW blog and user-vetted privatter list on Twitter.
Contact
Other places you can reach me or find more info about me below.
Shops
My Teepublic, Society6 & Redbubble